Hello PC Builders!
With only one day to go before you can play PC Building Simulator, how about another HUGE announcement to whet your appetite? We're ecstatic to announce GIGABYTE as our latest partner!
We've been working on this one for some time and we're delighted to share this news with you all! GIGABYTE are world-renowned for their ranges of motherboards and GPUs, which will be accessible from launch!
PC Builders will have several motherboards to choose from the GA range including AB350-Gaming 3, AX370-Gaming 5 & K7 and Gaming 9. From the X399 series, AORUS Gaming 7 and DESIGNARE EX will be available in-game. Finally, from the Z370 AORUS motherboard range, the Gaming 7 and Ultra Gaming models will be available to help make those high-spec rigs EVEN better.
The GIGABYTE components which PC Builders will have available to boost their graphical power will be taken to the Xtreme with the AORUS GeForce GTX series. The 1080 Ti Xtreme Edition 11G, 1080 Xtreme Edition 8G and 1060 Xtreme Edition 6G will all be available in-game. Other GPUs in the AORUS GeForce GTX series that will also be available include the 1080 Ti 11G and 1060 6G behemoths.
In addition to AORUS GeForce, several AORUS Radeon RX graphics cards will also be available in the PC Builders' inventory. Options for the Radeon cards include 580 8G, 580 4G, 570 4G and 580 XTR 8G models.Rounding off the selection of GIGABYTE GPUs are the GeForce 1030 OC 2G and Radeon RX Vega 64 8G. So many amazing options to get those graphics looking as sweet as they should!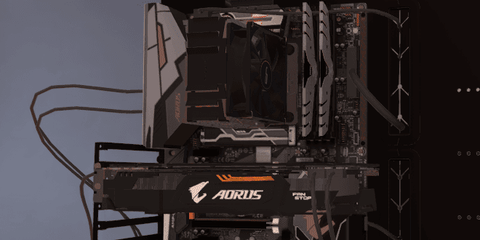 With only a day until launch, which GIGABYTE GPU or motherboard are you most looking forward to fitting to your rig? Let us know in the comments!
While launch day is almost upon us, there's still time to add PC Building Simulator to your wishlist. You'll be notified when the game is available for sale! If you want to grab your Steam key early and save 10%, visit our website: https://www.pcbuildingsim.com/ While you'll be able to redeem your Steam key, PC Building Simulator will still be unavailable to play until it launches tomorrow.
For the latest news and updates, follow us on Facebook and Twitter!
– The PC Building Simulator Team