Hello PC Builders!
We hope you had a really lovely end to 2017 and are ready to build a lot of PCs with us this year!
Back in September we announced that PC Building Simulator would be launching this month as it would allow us to skip a period of Early Access, increase the scope of the game and get more hardware partners involved.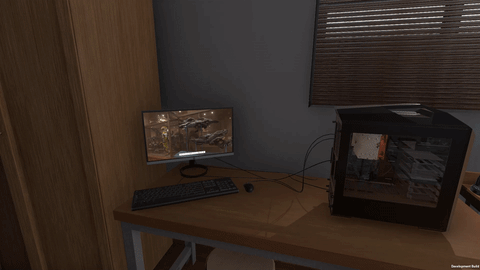 (Here's a sneak peek at 3DMark from Futuremark up and running in-game)
Since September we have announced that Cooler Master, Raijintek, NZXT and Futuremark are joining the project as partners and following these announcements we have had a number of other high-profile PC hardware manufacturers get in touch with us and we're in talks about getting them involved too!
On one hand this is massively exciting for us and for the project as a whole, but on the flipside it means that we now have a lot more components to create, test and add to the in-game library. This is not a small task and we've had to hire an additional 3D artist to speed things up. We want all components to look and perform as accurately to the real thing as possible and this is a lengthy process for such a small team.
In addition to extra help on the 3D art side of the game we have expanded the team to include an extra coder and a writer so that we can expand features and increase the amount of personality we can bring to the career mode.
As we approached the end of 2017 we realised that with the new career mode changes, additional partners and changes to the structure of the game there was a real chance we'd miss our target to release in January. To ensure we can release the best game possible, and to accommodate more of the partner hardware that has been so heavily requested, we are now planning to add a few more months of development time.
We're very aware that some of you are super keen to get your hands on the game asap so as an alternative to extending release into early summer, we've made the difficult decision to have a short period of Early Access starting on March 27th.
Early Access was something we wanted to avoid as we know it can be a put-off for some, but we feel like it'll be a great way for us to get the game out to you whilst also continuing to add new features and components. Enabling you to get building as soon as possible will also give us additional player feedback that will help us improve the game for all!
When PC Building Simulator launches into Early Access we aim for it to be mostly feature complete and as polished as possible. During Early Access players will have access to:
A wide range of fully licensed PC hardware to build with, PC's can be constructed and powered on to a (simulated) working operating system and include a range of simulated programs from benchmarking (including 3DMark) to control of any RGB lighting in the system.
'Career Mode' with multiple job types from a range of customer types.
'Free Build' mode that allows players to experiment with any available parts currently in the game without any career mode restrictions.
'How to Build a PC' mode to teach players how a PC goes together.
Game tutorial for new players.
During Early Access we will be adding a few more features, but mostly it will be about adding more hardware to build with, our shortlist of things to add before we exit Early Access is:
Overclocking.
Water Cooling.
More hardware to build with.
Fully localised into select languages (exact list of languages tbc).
More benchmarking options.
More job types in career mode.
In addition to this, we can now confirm that PC Building Simulator will be £14.99/$19.99/€19.99.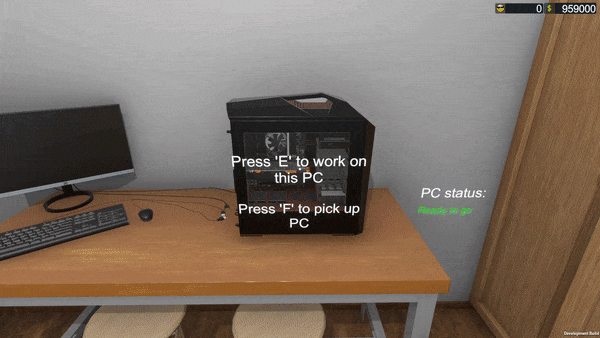 We know this news will come as a disappointment to some, but we are excited about having the additional development time to ensure that PC Building Simulator is as complete and polished as possible. Plus, we know you'll be even more eager to get your hands on the game once we get our next couple of partners announced!
Let us know your thoughts in the comments below and take a guess at who we might be announcing next!
Remember, you can still try out the very early alpha demo over on Itch and follow us on on Twitter and Facebook for updates.
Thanks so much for your patience and support!
– The PC Building Simulator Team.